Shopping Cart
Your Cart is Empty
There was an error with PayPal
Click here to try again
Thank you for your business!
You should be receiving an order confirmation from Paypal shortly.
Exit Shopping Cart
1450 Headon Road, P.O Box 93005, Burlington, ON L7M 4A3
Peace Partnership & Protection
Fully Licensed Rated # 1 Export Import Compliance Programs
International Trade, your link to the world market
Cross Border Services Blog
By: Dawn Truell, President, Cross Border Services
 Sept 13, 2016
3 days post truck driver charged in the death of an Ottawa cyclist, president of Greater Ottawa Truckers Association Ron Barr, defending truck drivers, "bikes shouldn't have been made equal to trucks on the road."
Conley, the truck driver, charged with criminal negligence causing death, which carries a maximum sentence of life in prison, and dangerous driving causing death, which carries a maximum sentence of 14 years in prison.
There are limitations for Truck Drivers due to the size of their vehicles, if you can imagine, they cannot see you when they are turning, the mirrors don't allow the truck driver to see behind, beside or underneath whilst in a turn. Please be aware of this fact and be cautious when riding a bicycle near a Truck. 
In the Transportation Industry we have all been told about the importance of conducting our
safety inspections
pre trip and post trip. These safety inspections are mandatory for both our driver logs for the
MTO and DOT
requirements as well as those of us who are part of the
C-TPAT, FAST
,
PIP and CSA Programs
. But, are we all actually doing this every single day prior to every single load that we do? Somewhere I think that the importance for safety has been lost.   Recently an innocent passenger vehicle driving along the highway 400 near King City, ON, January 27, 2015, 9:20 AM, was struck by two flying loose commercial truck tires. The gentleman driving that vehicle was killed when the two tires hit the windshield shattering it to bits and collapsing the roof of his vehicle. Unfortunately the truck driver, carrying a load of lumber, continued for 2 km before stopping to realize what had just happened. The 69-year-old, Paul Koenderman, from Burlington, ON, former CEO of Aecon Group Inc., was air lifted to a Toronto hospital where he died from his injuries sustained when the two 200 lb. truck tires came loose from the commercial truck body and hit his GMC Yukon.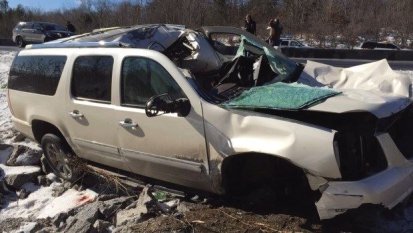 The amount of truck tires coming loose from the truck bodies whilst driving has increased from 2010 and in fact just last year in 2015 there were 127 incidents of these detached wheels just in Ontario.
With the new Operation Wheel Check that was launched in Ontario in December 2015, the requirements are getting more strict and to enforce this action the fines are getting steeper ranging from $2,000 for minor infraction to $50,000 for wheel separation.
Daily inspections
are an absolute liability law by the MTO and requires companies to do specific specialized training for the technicians that are involved in the wheel installations.
Ministry enforcement with on-road inspections by specially trained police officers has become the norm and their eyes are peeled for those operators failing to do their proper inspections. Just since December 2015 there have been 1,800 trucks and 10,000 wheels inspected by the ministry.
Cutting corners for truck safety inspections seems like a time saving idea when one is in a hurry to make a shipment as time is money in our JIT era, however, we must remember that lives are far more important here than monetary gains, after all, what are we working for everyday? Money to support our lives and our families; think about everyone else's families out there that we could potentially be putting in danger by not performing our daily pre trip and post trip inspections properly. It shouldn't have to take someone's life to remind us of how important these safety inspections truly are. The trucking company involved in this unfortunate accident stated that their last inspection on this truck was done January 22 and that their standard practice is to only inspect the trucks once per week; according to MTO standards, you must inspect your truck
Daily for safety of the vehicle
including it's tires.
/